To repeat ads, or not to repeat ads. That is the question that has been making the rounds of the podcast advertising blogosphere the last couple of months.
In early July, Pierre Bouvard of Cumulus Media posted a blog citing what was at the time the most recent Podsights Benchmark Report showing that podcast ad frequency had more than doubled from Q4 2020 to Q1 2022. Podsights tied this increase in ad frequency to a corresponding decline in ad conversions, suggesting that too much ad repetition was having a negative impact on ad effectiveness.
Then, right on the heels of that blog, Audacy weighed in with a release that painted a very different picture. They recently conducted a study on ad effectiveness in partnership with Spark Foundry using a methodology that combined neuroscience research with a follow-up survey. Based on the study results showing that each new exposure to an audio ad actually increased ad engagement and purchase intent, they concluded that repetition is a good thing,
At the same time, if you search for organic listener complaints, you'll run across this comment thread from April on the TrueCrimePodcasts subreddit, where listeners bring up ad repetition as one of their pet peeves about the ads they are hearing on true crime podcasts.
Confused? Concerned? Let's explore.
There is no right side in this debate. We need to consider the context.
First, different results from Podsights and the Audacy study don't mean either source is wrong. More likely, they are providing two shades of the same truth because they are measuring two different things. Ad conversions are not the same thing as ad engagement or even purchase intent.
Second, podcast advertisers and publishers can breathe a small sigh of relief when it comes to ad conversions. For the first time over the past several quarters, the just released Podsights Benchmark Report (released since Pierre's blog post) shows a decrease in ad frequency coupled with a modest increase in ad conversions. That said, ad conversions are still lower than they were a couple of years ago when ad frequency was also lower.
Third, one thing we do know from countless studies is that (at least for now) podcast listeners continue to be remarkably receptive to podcast advertising. Looking at our own podcast studies  such as the biannual Download studies we do in partnership with Cumulus Media and The Canadian Podcast Listener, supported by The Podcast Exchange, the pattern is consistent. Listeners are not only accepting of podcast advertising, but most value the role of sponsors in supporting their favorite podcast.
This was reinforced by a recent study we conducted in partnership with SXM Media. We asked 1,500 monthly podcast listeners in the US which attributes they associated with the ads they hear on various types of media.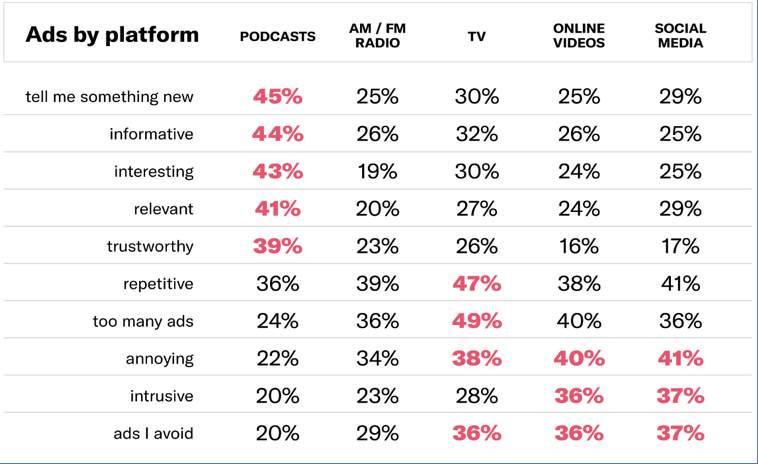 Podcasts performed extremely well vs. other media on virtually all attributes. The one area where they lost a bit of their competitive edge was in repetition. While podcast listeners have a clearly favorable view of podcast ads, listeners tended to lump in podcasts with other media when it comes to repetitive ads.
Will too much repetition of ads push listeners away from podcasts?
Not likely. As Sounds Profitable's Tom Webster points out in a recent blog, unpleasant ad experiences don't seem to keep people away from other media, like TV. It's part of the grand bargain between the audience and advertisers in ad-supported media: ads are accepted in return for free content.
That said, too much repetition could have an impact on advertising effectiveness. Unlike TV, podcasts have a skip button. (This might even explain the drop in ad conversions that Podsights has been seeing over the past couple of years.) And, of course, bad ad experiences could lead more listeners to ad-free subscriptions. Obviously, not a good thing for podcast advertisers.
Takeaways
Podcast ad repetition is not at a crisis point at the moment. However, there are a few things we should keep an eye on:
Track listener attitudes towards ad repetition (as well as ad load and ad type) and adjust podcast advertising tactics accordingly.
Find the optimal balance between reach and frequency. In his blog, Pierre makes the case that too much frequency on a tight target can be counter-productive to campaign effectiveness. Reach has always been a crucial ingredient in ad campaigns, and as podcast listening grows, reach can play an increasingly important role in podcast advertising.
Finally, embrace tools like DAI and programmatic technology (and refine as needed). This will get more ad dollars out to the long tail of podcasting where there's still lots of available inventory and fresh ears.