One of the privileges of working on the biannual Cumulus Media / Signal Hill Insights' Podcast Download Report over the past four years has been the opportunity to keep a close eye on changes in podcast platform usage in the US.
In particular, we have been able to track YouTube's emergence as a leading podcast platform and observed firsthand the blurring line between podcast consumption and podcast listening.
With that in mind, since Spring 2022, the Download Study looks at both podcast watching and listening by including podcast consumers who say they watched, and didn't listen, to a podcast in the past week. While this subgroup represents just 8% of the 608 respondents in the new Spring 2023 Download Report, it delivers a more inclusive view of podcast consumption than other studies that miss both the video-only consumers, and the video-focused consumption of those who also listen to audio podcasts.
The Spring 2023 Download Report shows even more platform growth for YouTube. And it provides us with the most detailed picture yet of how and why podcast consumers use it. We see several reasons why the industry should not ignore the platform. We also see evidence for why we should not be afraid that YouTube will take over – most podcast listeners still prefer a multi-platform ecosystem. 
YouTube is establishing itself as the most popular destination for podcast consumption. In this most recent Download Report, 29% of past week podcast consumers in the US named YouTube as the platform they access most often for podcasts, opening up an increasingly wide gap over both Spotify and Apple Podcasts.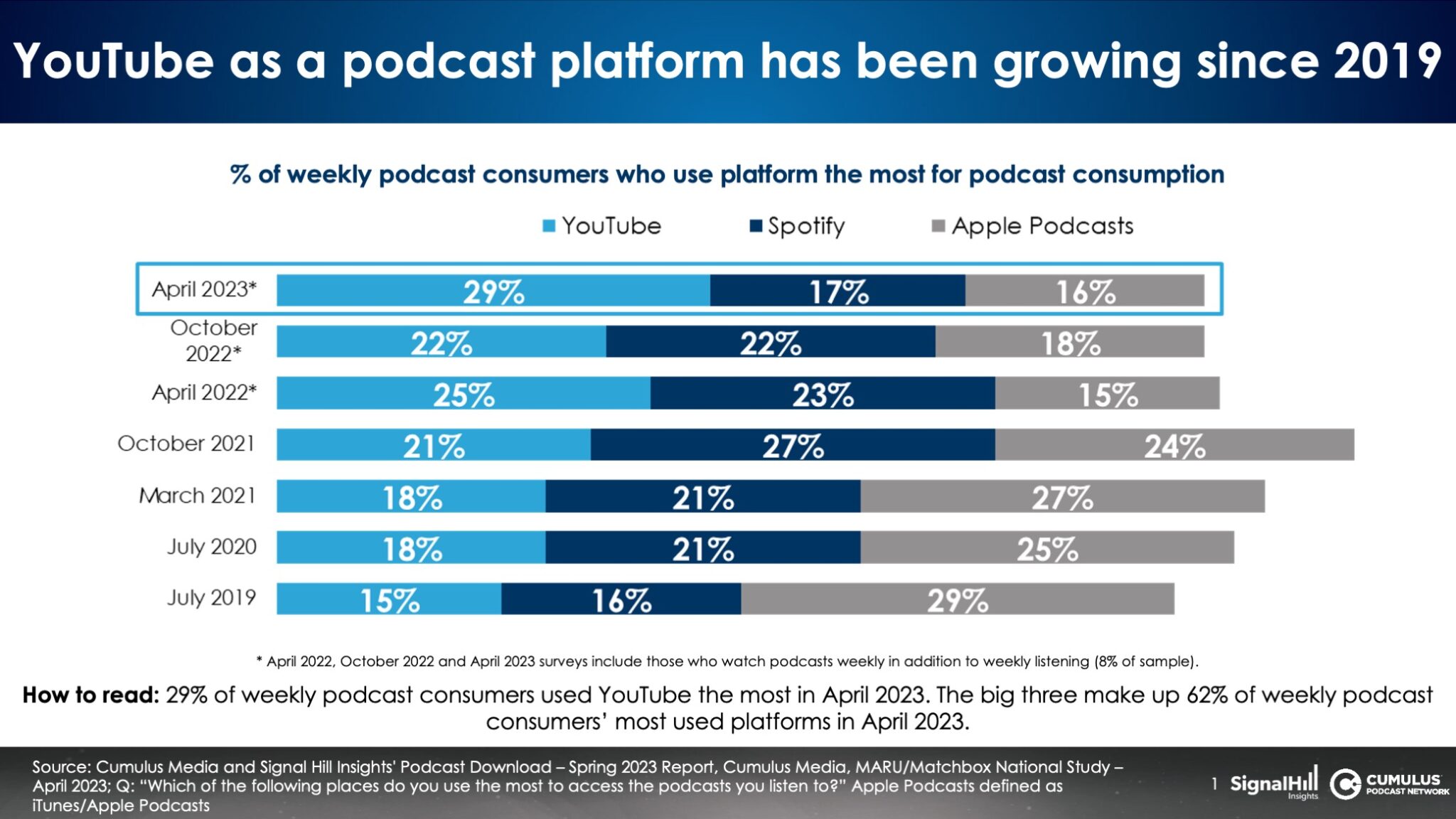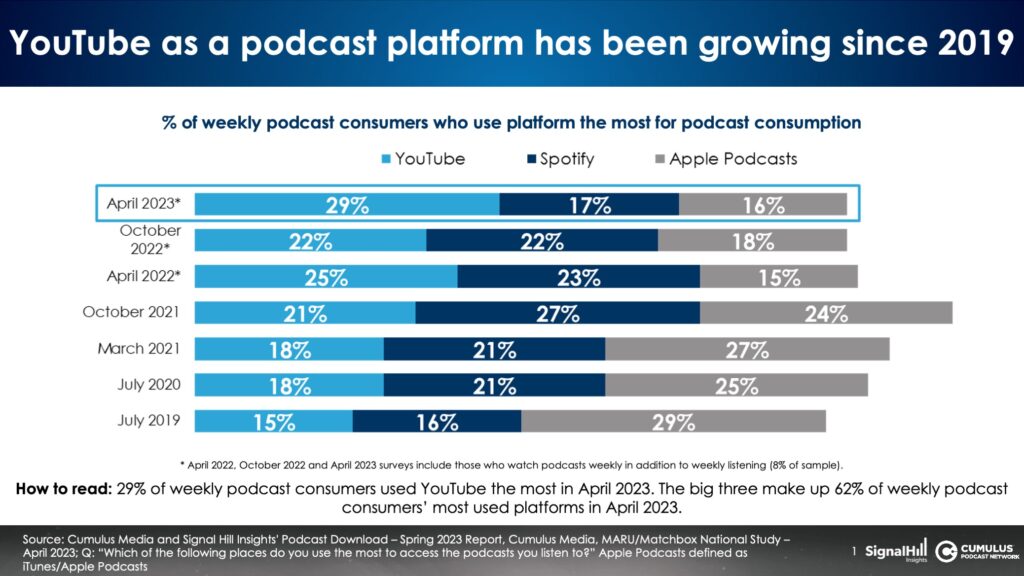 Consumers don't see podcasts as a strictly audio medium, but they're not all in on video, either. 
First, as we'll see later, most YouTube users are also accessing podcasts on other platforms. Second, a large proportion of YouTube podcast time is spent without eyes on screen – in fact, a full 42%, making YouTube an audio platform as well as a video platform.
YouTube is helping to fuel the continued growth of podcast consumption. More people are getting the podcast habit by accessing them on YouTube. It's the most used platform for podcast Newcomers — those weekly consumers coming into podcasting in the past year. And YouTube is stealing share from Spotify, with Newcomers now using Spotify less than they did in March 2021.
YouTube plays an outsized role in driving podcast discovery. Among weekly podcast listeners who discovered a new podcast in the past six months, more than one-in-three (34%) said they first heard their latest new podcast on YouTube.
Whether due to YouTube's recommendation engine or simply where podcast consumers spend more of their time, that's roughly 2x as many as those who named either Spotify or Apple Podcasts.
YouTube is not a walled garden: most YouTube users listen to their YouTube podcasts on other platforms. 54% say they listen to the same shows on other platforms, which may be when they're driving, or doing other activities when they can't see a screen. Or when they simply prefer an audio-only experience.
When all is said and done, audience loyalty to the podcast trumps loyalty to the platform. It's not about the platform. It's about the content. Given a scenario where a favorite YouTube podcast only became available on another platform, more than three-in-four (77%) would follow the podcast to another platform. This is easy to understand given that a majority of YouTube podcast consumers are using other podcast platforms to begin with.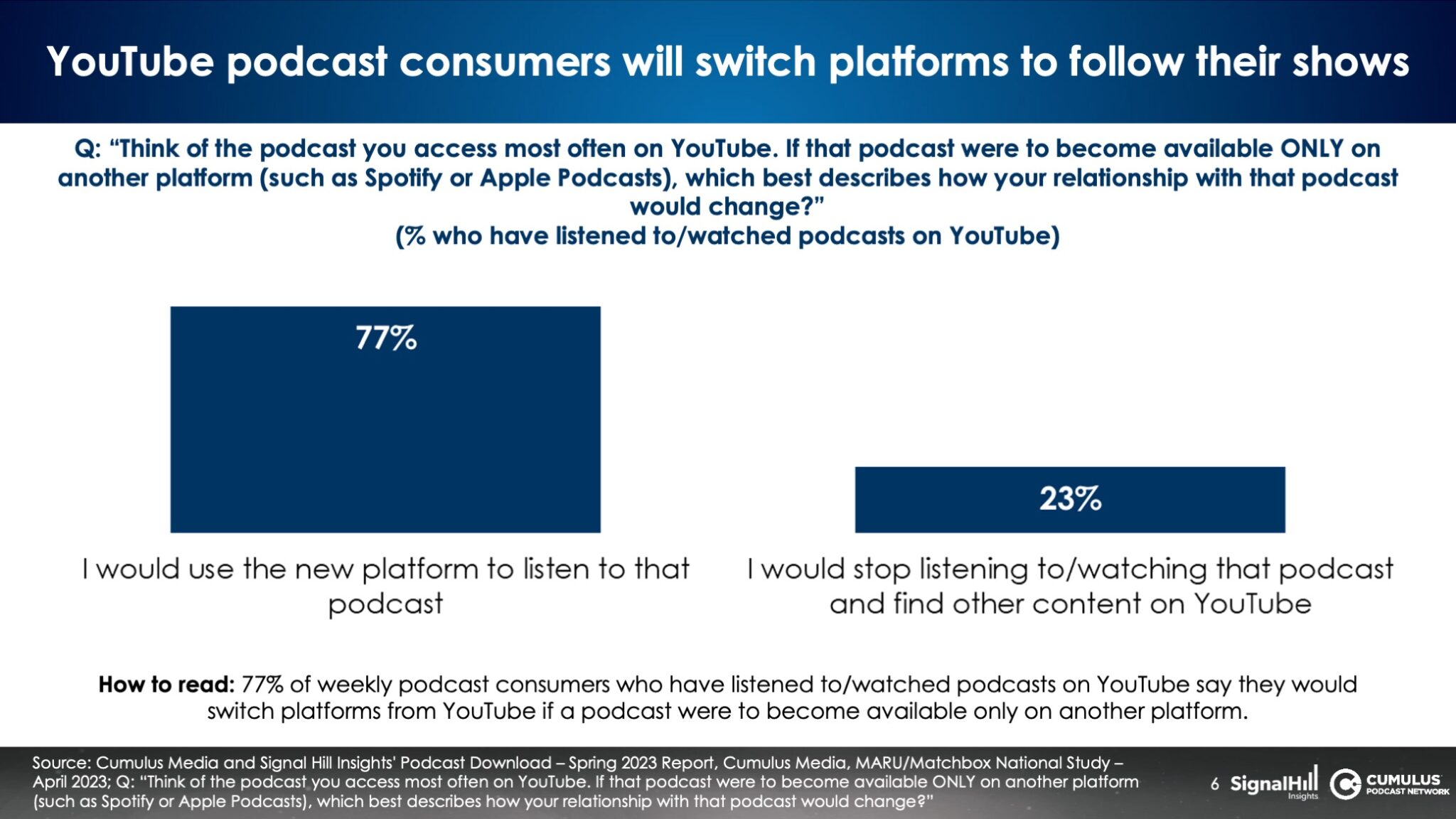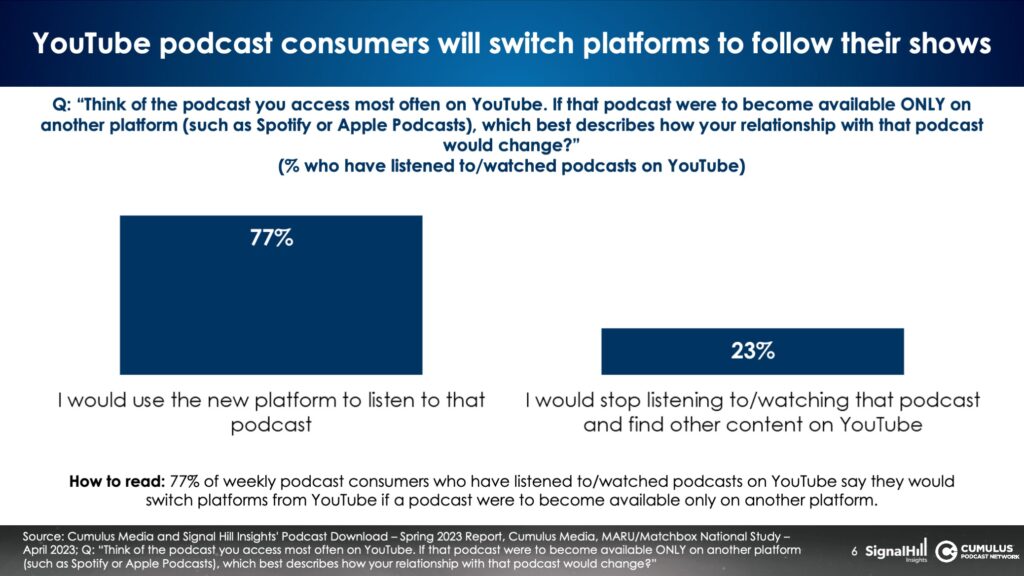 How Can Podcasters and Publishers Best Seize the YouTube Opportunity?
The strategic implications are clear:
If you want to reach a growing audience — where you have a strong opportunity for discovery — you should include a YouTube presence in your planning.
Many listeners who discover your content on YouTube will consume it elsewhere.
At the same time, podcasts need to be everywhere. YouTube exclusivity is not the best strategy. It should be treated like Spotify or Apple Podcasts –one platform among many.
Every podcast and podcast audience is different. The time may be right for experimenting with YouTube, but the evidence doesn't necessarily point to jumping all-in to an all-video strategy. Your mileage may vary.
It's worth saying again: in podcasting we have both listeners and viewers. So, the most inclusive and strategic perspective is to recognize that we have podcast consumers.
By unnecessarily restricting your efforts to audio-only platforms, you limit possibilities in a multi-platform world.