Thinking back 10 years ago, it was reasonable to expect that the growth of podcast listening and music streaming would take a slice out of the rapidly growing pie of revenue going to digital advertising.
Music streaming in particular offered advertisers the same benefits as other digital media. It delivered addressable audio, allowing brands to target specific listener segments. And it was highly measurable, allowing advertisers to track impressions with digital attribution letting them follow the consumer's journey from exposure to web visits to sales conversions.
Since then, many of these same benefits have accrued to podcasting and AM/FM streaming. Taken together, adding in a steep increase of audience over the past 10 years, the three pillars of digital audio (podcasting, AM/FM streaming and music streaming) represent an attractive digital alternative for advertisers. And you can argue an underappreciated one — especially when you factor in the enhanced attention and effectiveness of audio.
Digital audio has yet to take its seat at the digital advertising table. That means it hasn't fully benefited from the explosive growth of digital ad dollars over the past decade. Instead of being part of the digital advertising conversation, digital audio is still typically assigned to advertisers' audio budgets. And so it is that most of its revenue growth has come at the expense of over-the-air (OTA) radio, not from the larger digital ad marketplace.
Meanwhile, brands are losing out on audio's reach, attention and effectiveness.
Dentsu's most recent Global Ad Spend forecast paints a clear picture of the continuing dominance of digital advertising and the comparatively stagnant performance of an audio category made up of OTA as well as online radio and podcasts. Dentsu estimated digital advertising at a 52.6% share of global ad spend in 2021 rising to 55.8% in 2022. Meanwhile, the total share dentsu assigned to audio was 5.2% in 2021, dipping to 5.0% in 2022.
The challenge facing audio is not a lack of listening – it's a lack of advertiser investment. Below is a comparison of share of time spent vs. ad spend on various media from a WARC Global Advertising Trends report from late 2021. Podcasts, online audio and radio represent three of the four channels where the share of ad dollars lags well behind the share of time spent.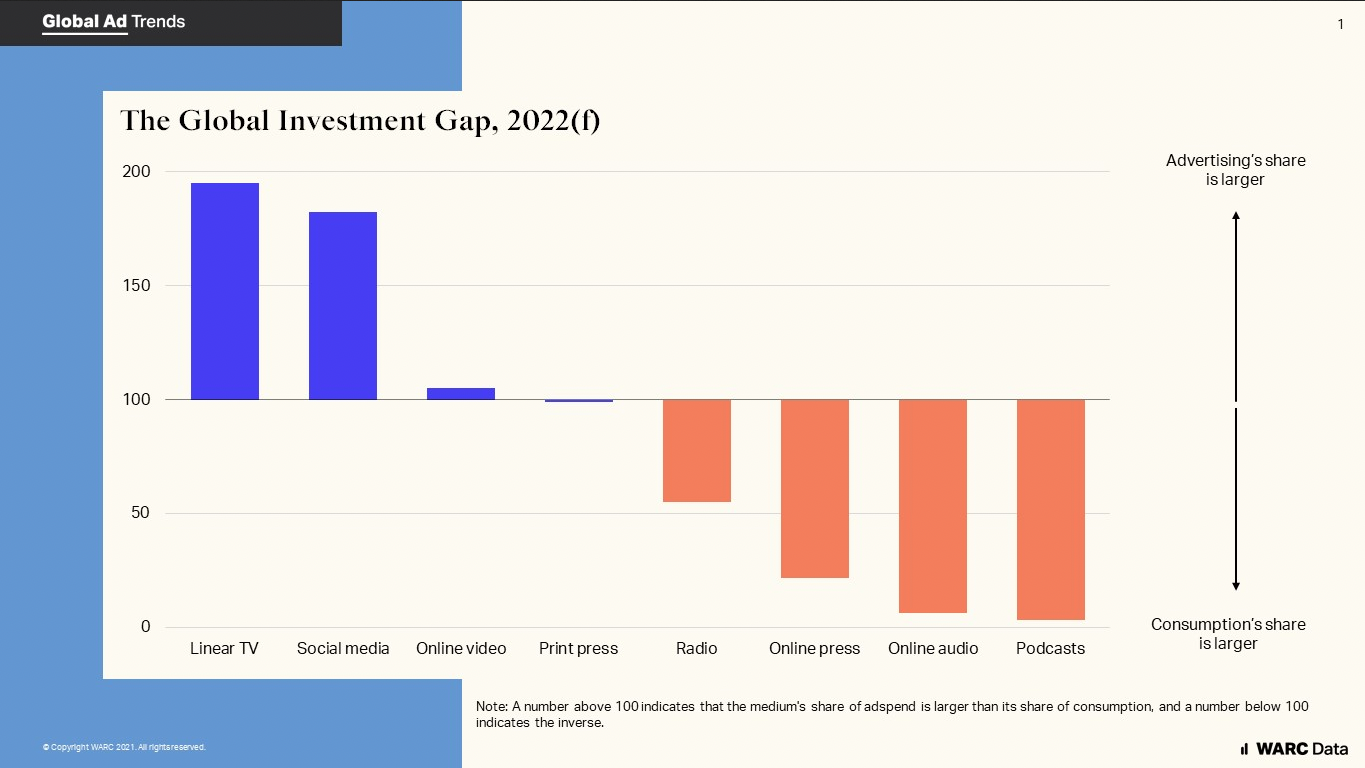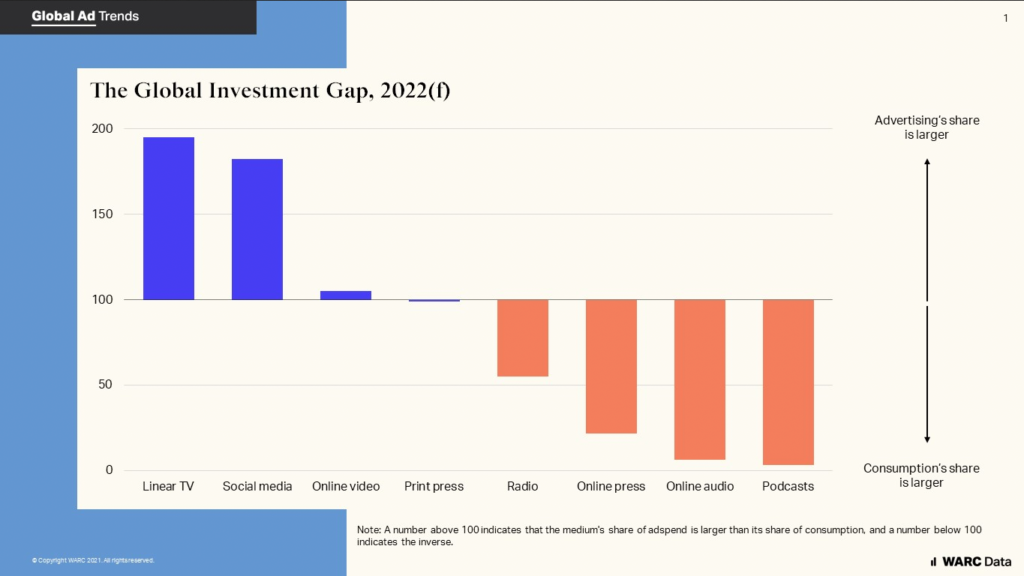 Listener growth at AM/FM streaming and podcasting coupled with ad tech enhancements make a stronger case for digital audio.
More and more AM/FM listening is being streamed, giving broadcast radio its own place in the digital arena. According to Edison Research's Share of Ear study, 20% of all AM/FM listening among 25-54-year-olds in the U.S. is now going to AM/FM streaming, double the amount registered pre-pandemic. We see a similar trend in our Radio on the Move study in Canada. This is also opening the door for broadcasters to start offering addressability, digital attribution and brand lift studies to AM/FM advertisers.
Meanwhile, podcast listening continues to grow (now up to 10% Share of Ear among Americans aged 13+, up from just 1.7% in 2014). At the same time, ongoing improvements in ad delivery and measurement is closing the gap between what podcasting and other digital media can deliver – for example, the introduction of programmatic advertising and pixel-based brand lift studies.
An industry-wide effort to position digital audio in the same competitive set as other digital advertising would put audio on a robust revenue growth track.
To the extent that you can count on any prediction, it's a safe bet that digital advertising will grow at a faster pace than audio will in the silo where the ad community currently places it. Even though dentsu projects slower growth in the next few years for digital advertising, they still see its share of global ad spend growing from 55.8% in 2022 to 60.3% in 2025 with audio's share slipping from 5.0% to 4.8%.
Is it possible to hitch digital audio to the larger digital ad bandwagon? It's certainly worth a try. With so many of the major players now having a stake in multiple audio channels, there is a greater chance than ever for the audio industry to make its case to the ad community with one voice.